programme overview
Total no of seats: 120
Digital transformation in every field including business domains, government, social sector and even in our personal lives has led to an increased demand for E-Business professionals with a sound understanding of Digital Transformation in various fields including brick and mortar organizations as well as pure-play e-commerce companies.
programme usp
what is pgdm e business program?
It is a full-time two-year pgdm programme providing industry relevant insight into digital convergence.
It encourages students to explore how various digital technologies and platforms could be leveraged in an innovative manner to help achieve business results through better engagement with customers, innovative products and services, innovative customer experiences (UX/UI) and innovative business models.
programme educational objectives (PEOs)
PEO 1.Develop business functional knowledge and skills by providing the students a wide range of inputs and experiences from across diverse business verticals and functional areas
PEO 2. Broaden the students' understanding of technology by providing them exposure to a wide range of concepts, platforms and solutions thus, instilling a passion for technology thereby helping them evolve as agile practitioners with a 'digital 'mindset'
PEO 3. Inculcate key attributes of design thinking viz empathy, visualisation, innovation, critical and integrative thinking which enable the students find technology -based solutions to business problems
PEO 4. Inspire an intra/entrepreneurial spirit that has the ability to transform and drive disruptive/incremental change in the present complex digitally volatile world
programme outcomes (POs) for PGDM E-Business
PO1 - Leadership
PO2 - Critical and Analytical Thinking
PO3 - Design/Innovative/Integrative Thinking
PO4 - Global Perspective
PO5 - Role of Self in Organization and Society
PO6 - Communication Skills
PO7 - Techno-proponent
class profile 2020 - 22 batch
The programme draws in students from diverse cultural, personal and professional backgrounds, across India.
education


32%
Bachelor of Commerce (BCom)

7%
Bachelor of Science (BSc)

16%
Bachelor of Business Administration (BBA)
3%
Bachelor of Management Studies (BMS)

16%
Bachelor of Engineering (BE)

16%
Bachelor of Technology (BTech)

Work Experience




Age


placement stats
The placements at WeSchool had an excellent response from companies, not only in terms of the number of job profiles but also the diversity in roles and attractive packages. A total of 358 companies visited the campus out of which 227 were new companies.
domestic

₹9.4 lakhs p.a.
Average Salary

₹ 14.7 Lakhs p.a.
Highest Salary
domestic

₹11 lakhs p.a.
Average Salary

₹ 17.85 Lakhs p.a.
Highest Salary
programme structure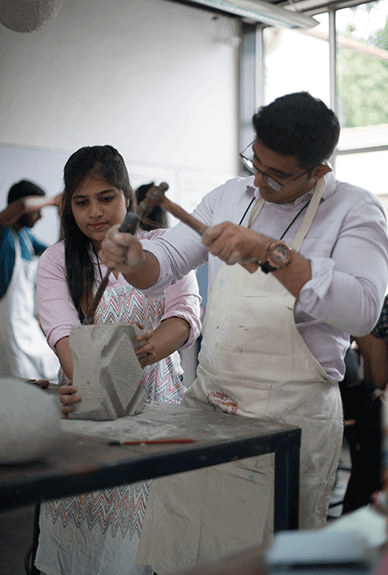 career opportunities
On successful completion of the PGDM- E-Business programme, students can evolve to be confident managers with an innovative mindset, able to think creatively and identify resourceful solutions to the problems faced in the virtual space, rooted in a deep understanding of business concepts and appreciation of the underlying technology.







Business Development Associate




Executive - Business Development

Executive - Consumer Insights



Management Trainee - Finance

Market Development Executive

Market Development Executive



recruiters
Unlike most academic institutes, we do not leave our students alone to find a living for themselves, upon the completion of their course. Which is why, we have partnered with key recruiters by inviting corporate/industry experts, to choose from the best talents that we create in our classrooms.



















Disclaimer: Representation / Use of any third-party trade marks including logos herein is merely to indicate that these companies were at the WeSchool Campus for the Student recruitment process.
admission and fees
WeSchool intends to give more than what it takes, in order to offer a brighter future to our students. We try rising above the assured ROI which is just numbers, by adding value and making our students competitive enough to face real challenges in the dynamic business world.

tuition fees & other
₹6,50,000/- p.a* *Subject to change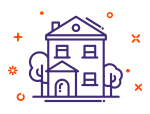 hostel fees
₹1,50,000/- p.a. Plus a deposit of ₹5,000/- (refundable)
Please Note
*Hostel accommodation is mandatory for the students of Bengaluru Campus.
course eligibility
A minimum 50% in graduation, which must be completed by June 2023.
Should have taken CAT (2022) conducted by the IIMs for the year specified in the advertisement (IIMS have no role in the Welingkar admission process) and /or/ XAT (2023) / and / or ATMA (Feb 2023) and / or CMAT (2023) and / or GMAT (2020 onwards).
selection process
WeSchool's Unique Profile based selection process assigns significant value to academic performances, work experience, Group Activity, Personal Interview along with the written test scores.
Important dates
Phase 1.
Start of Application Form - 14th Nov, 2022
Last date of Application Form - 15th Jan, 2023
GA/PI Shortlist List - End of Jan, 2023 (Basis CAT /XAT Result / Profile based calls).
Selection Process Dates (Offline) - Delhi: 17,18 & 19 Feb 2023 | Kolkata: 18 & 19 Feb 2023 | Indore: 19 Feb 2023
Phase 1 Merit List - March 2023 (CAT/XAT)
Phase 2.
Start of Application Form - 20th Feb, 2023
Last date of Application Form – 31st March, 2023.
GA/PI Shortlist List - April, 2023 (Basis CAT/XAT/ATMA /CMAT/GMAT).
GA/PI - April 2023.
Phase 2 Merit List - May 2023 (CAT/XAT/ATMA /CMAT/GMAT)
*You don't need to apply in Phase 2 if applied in Phase 1. Simply update your CMAT / ATMA scores
Entrance test cutoff
Entrance Exam Test cut off for PGDM 2023-25 batch.
Mumbai Campus
Program/ Campus
CAT 2022 / XAT 2023 /
GMAT (2020 onwards)
Percentile
ATMA (2023)/ CMAT 2023 Percentile
PGDM, E-Business Research & Business Analytics
80
85
PGDM Retail, PGDM Media and Entertainment and PGDM Business Design
75
80
PGDM – Healthcare Management
70%ile across above entrance tests, irrespective of any graduation degree background.
PGDM – Rural Management
Bengluru Campus
Program/ Campus
CAT 2022 / XAT 2023 / GMAT (2020 onwards) Percentile
ATMA (2023)/ CMAT 2023 Percentile
PGDM, E-Business Research & Business Analytics
75
80
PGDM - Business Design & Innovation
70%ile across above entrance tests, irrespective of any graduation degree background.
Selection Criteria
Weightage of parameters for final selection
1) Qualifying Entrance (CAT/XAT/ATMA/CMAT/ GMAT)
35%
2) Academics (10,12, Graduation)
15%
3) Interview (Pre-interview questionnaire, Interview)
45%
4) Extracurricular activities (Awards in sports, competitions at Degree college and above) etc.
5%
Note:- Qualifying test year and month wherever applicable is mentioned in the Entrance test cutoff.
Admissions
Admissions are based on merit only. No discrimination is made on basis of the state from which graduation certificate is obtained. There are no reservations for linguistic minorities either.
student achievements
Year on year, our students do us proud and edify our belief in creating the leaders of tomorrow. Here are the achievements of our latest batch.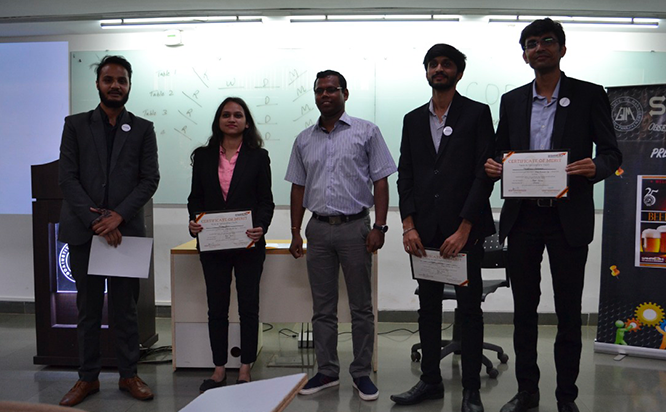 Operations Simulation - Beer Game
Position: 1st Runner up
Description: Operations Simulation - Beer Game - Samriddhi 2018 at Goa Institute of Management
Date: 2018, August
Batch: PGDM E_Business 2017-19
Team members
Jayesh GuptaChirag DevpuraMonika SanePramathesh Deshpande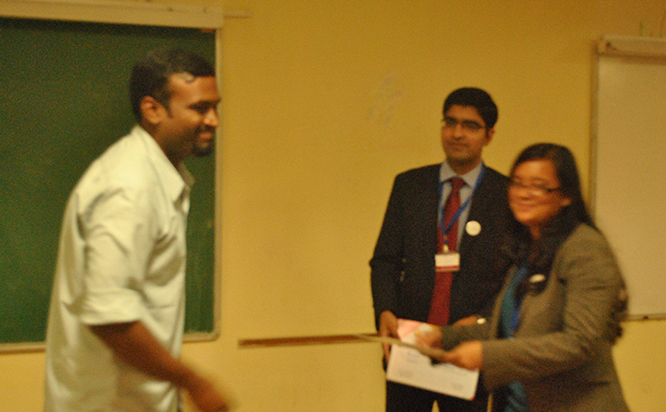 Krunchh, the Annual Analytics & Consulting event
Position: 1st runner up
Description: Krunchh, the Annual Analytics & Consulting event of Samanvay - 2014
Date: 2014, October
Batch: PGDM E-Business 2013-15
Team members
Ronica Ravinder SinghRishi Kachroo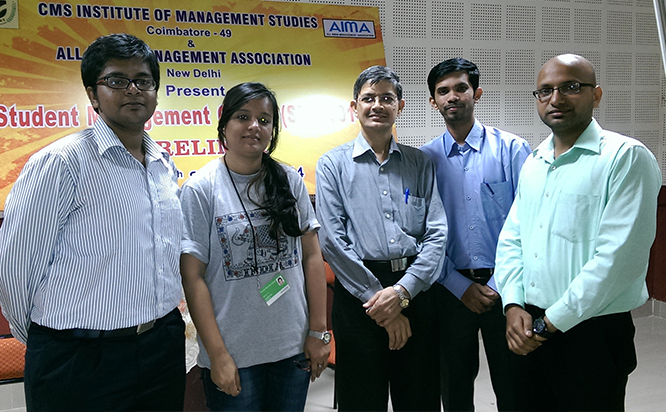 AIMA
Position: 1st place in the Southern region round
Description: AIMA_18th Student Management games 2014
Date: 2014, September
Batch: E-Business 2013-15
Team members
Manoj KumarAkhil SakarwalRonica Ravinder SinghArshad A
testimonials