programme overview
Since most participants in the Master's in Information Management (MIM) program typically come from a specific technical domain/role within the space of IT, the program at a primary level seeks to help these participants to develop a wider understanding of IT and going further develop in them a broader vision for technology in transforming business and society.
The wide range of technical subjects such as Digital Infrastructure and platforms, enterprise applications, Data-warehousing, BI and Analytics, digital marketing combined with the Technology management subjects such as Business Analysis, Information and cyber security management, Governance risk and compliance, Managing IT projects, Digital Business and strategy. These techno management subjects when coupled with general management subjects such as finance, Marketing, People management etc significantly prepares the MIM student for a higher mid management or general management responsibility.
As a result of the autonomy granted to Weschool by the University of Mumbai, the MIM program has a revised and contemporary curriculum which aims at helping working executives who aspire to become more effective and paves for them one of the following career paths :
• Service provider Track (IT/ ITES, IT Product Companies) • Corporate Track • Analytics Track • Digital Track
Why MIM @ WeSchool
Master's Degree from University of Mumbai
Makes you eligible for higher studies eg PhD
Break the glass ceiling of "Not an MBA"
Peer learning- 60 other experienced batch-mates
Build a Strong Network of practicing professionals
Lectures on Friday, Saturday & Sunday
Quality Brand –WeSchool granted autonomy by University of Mumbai
Contemporary Curriculum
Highly experienced Core Faculty
Senior Leaders as Visiting Faculty
Central Location– close to Matunga/Dadar/Wadala
Convenient for those working or living in -

South Mumbai, Lower Parel, Dadar, Wadala
BKC, Western Suburbs
LBS Road, Kurla, Chembur, Vikhroli, Thane
Others
Programme USP
Contemporary courses such as:
Digital marketing,
Cognitive Technologies
Analytics including Tableau, Python , Machine Learning
Business Analysis
Aligned to Intenationally accepted Standard bodies of knowledge
PMI's PMBok, IIBA's BABok, ISO 27001 etc
Prepares you for a variety of roles under the following career tracks
IT/ITES Service Provider track
Corporate IT/CIO track
Digital Marketing Track
Business Analytics track
Information security and GRC track
Consulting and Entrepreneurship
programme structure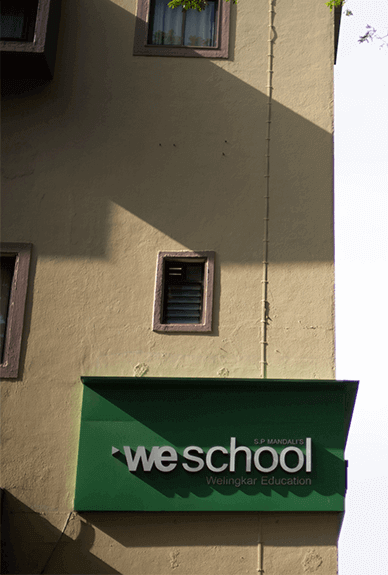 career opportunities
If you are in looking for any of the following Careers -












CISO / Info Sec Consultant

Digital Marketing Consultant


admission and fees
WeSchool intends to give more than what it takes, in order to offer a brighter future to our students. We try rising above the assured ROI which is just numbers, by adding value and making our students competitive enough to face real challenges, in the dynamic business world.

Students Graduated from University of Mumbai - ₹ 49,755 p.a. + Library Deposit (Refundable) - ₹ 2000

Students Graduated other than University of Mumbai (Within Maharashtra) - ₹ 50,155 p.a. + Library Deposit (Refundable) - ₹ 2000

Students Graduated other than University of Mumbai (Outside Maharashtra) - ₹ 50,255 p.a. + Library Deposit (Refundable) - ₹ 2000
* NOTE: FEES ARE SUBJECT TO CHANGE AS PER FEE FIXED BY FEE REGULATION AUTHORITY (FRA) GOVT. OF MAHARASHTRA
eligibility
Bachelors Degree (10+2+3) from a recognized University and minimum 2 years of work experience at Supervisor's/Officer/Executive cadre after graduation completed on or before 30th June 2020 is mandatory.
selection process
The selection process comprises of a comprehensive evaluation consisting of a Written Test, Group Discussion and Personal Interview. All eligible candidates applying to the institute will be called for the selection process.
lecture timings
Friday: 6.30 pm - 9.30 pm
Saturday: 3.00 pm - 9.30 pm
Sunday: 9.00 am - 7.00 pm