Prof. Garima Sharma
Associate Dean- IIC & Research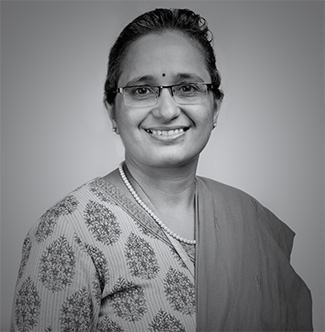 about faculty
Education:
• PhD, SNDT Women's University, Mumbai:
Thesis Topic- Competency Mapping in HRM- Identification of Critical Success Factors and Roadblocks in its Implementation in Indian Organizations.
• MMS, Malaviya National Institute Of Technology, Jaipur.
• MA (English), University of Rajasthan.
Teaching Experience: 13 years' experience teaching MMS and PGDBM programs- Subjects taught and Sessions engaged include Business Research Methods, Perspectives Management, Competency Based HRM and Performance Management, Social Marketing, Marketing of NPOs, Marketing Audit, HRIS, OB, Building A Learning Organization, Organization Development and Change, OB, Personal Growth Laboratory, Emerging Trends in Marketing, Capacity Building for making students Employment Ready, Management Development.
Project guide for Summer Internships and Six Months Long Dissertation as a part of Post Graduate Programs in Management.
Industry Exposure:
• 10 Years' experience
• Conducting MDPs in Selling & Negotiation Skills, Customer Orientation, Conflict Management, Emotional Intelligence etc.
• Usage and Attitude Studies, Brand Audits, Consumer Behaviour Research, Advertising Effectiveness Research, Launching of Products, Customer Satisfaction Surveys, Industry Analysis Reports.
• Development of Competency Frameworks, Employee Engagement Surveys and Recommendations thereof, Development of Performance Management Systems.
Academic affiliation:
• Former Editor for Management Vision Journal published by Rizvi Institute of Management Studies and Research.
• Sole Editor of "Souvenir" published as a part of National Conference on Research in Management organized by ICFAI Regional Office, Jaipur.
Professional Affiliation:
• Empaneled as Trainer and Faculty at the Institute Of Chartered Accountants of India.
• MTHR