Prof. Dr. Archana Ghatule
Professor - Research & IT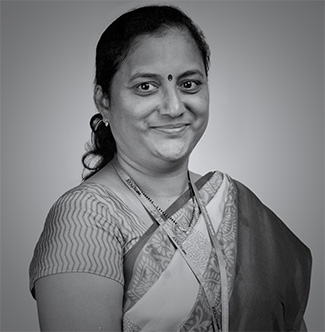 about faculty
Education experience:
MDP (IIMA) - 20112
MCA - 2011
Ph.D. - 2010
MMS - 2002
MCM - 1997
B.Sc. (chem) - 1995
Teaching Experience: 20+ Years
Industry Exposure: 1 year and 2 months as a Software Engineer.
Academic Affiliation: Was Member of Committees of BVDU, Solapur University, SIBER, Kolhapur.
teaching & research
Teaching Interest: Research Methodology, Programming Subjects, OB.
Subject taught: Research Methodology, Computer fundamentals, Software Engineering, UML and Design Patterns, Java, Software Project Management, HRM, Stratigic Analysis and Corporate Planning, Visual Basic, HTML.
Research interest – Area of research / current research: Occupational Hazards in IT Professionals, Performance Management, Group/Team Cohesion, talent management.
consulting
Software Consultant at
1. Andhshradha Nirmulan Samiti, Sangli.
2. Quintessence Pvt. Ltd., Pune.
3. Kshetradnya Info Tech, Pune.
publications
Publication Released:
1. "IT Professional: Do Female show more symptoms of Depression and Anxiety than males?", VSRD International Journal of Business and Management Research, Vol. VIII Issue V May 2018, pp 145-150, e-ISSN: 2231-248X,p-ISSN: 2319-2194©VSRD International Journals: http://www.vsrdjournals.com/pdf/VSRDIJBMR/2018_5_May/3_Archana_Ghatule_VSRDIJBMR_13779_Research_Paper_8_5_May_2018.pdf,Impact Factor 4.791, UGC Listed Journal No- 43329.
2. "Talent Management Issues in Higher Education (HE) Institutions in India", International Journal of Physical and Social Sciences, ISSN 2249-5894, Vol. 8 Issue 6, June 2018, pp 16-20, Impact Factor 6.664, JDN- 01.2016-71245956.
3. "Teacherpreneur: Context of Indian Higher Education", International Journal of Innovative Computer Science & Engineering, ISSN 2393-8528, Impact Factor 4.06, JDN- 01.2016-71245956- 2017.
4. 'Study of Internet Addiction among Students w.r.t Gender and Education', International Journal Of Multifaceted And Multilingual Studies- IJMMS, Vol 3 Issue VI, June 2016, ISSN (Online): 2350-0476 ISSN (Print): 2394-207X - UGC Listed Journal No- 47674, Imact Factor- 4.205.
5. "Study of CRI Problems Among IT Professionals", International Journal of Management and Social Science Research Review, Vol.1, Issue.18, Dec – 2015, pp. 232-238, Web Link- http://ijmsrr.com/downloads/0901201642.pdf, E- ISSN – 2349-6746, ISSN -2349-6738, Impact Factor: 3.029.
Paper Presented:
1. 'Auto Generation of DFA with Starting and ending constraints', Proc. Of 48th IRF International Conference, organized by Institute of Research and Journals, January 31, 2016.
2. 'Flipped Classrooms- An Innovative Pedagogy for Participative Learning- Are We Using it?', International Conference on Innovation: Leading The Revolution organized by Dnyansagar Arts and Commerce College, Pune, 12th & 13th Sep. 2015.
3. 'Study of Depression and Anxiety Problems among IT-Professionals', Proceeding of 2nd International Conference on Social Sciences organized by University of Kelaniya, Sri Lanka, on 22nd – 23rd November 2013.
4. 'Theoretical Framework for work family conflicts in Dual Career Couples (DCC)', Proceeding of Proc. Of International Conference on Current Reality and Emerging Trends in Global Management Practices, organized by Institute of Management Studies, Career Development and Research, January 11-13, 2013.
5. 'Effect of Heavy Workload on fertility of IT-Professionals: a Study With respect to Indian IT-Sector', Paper accepted for International Conference on Management and Artificial Intelligence– ICMAI 2012, Bangkok, Thailand. Organized by International Economics Development Research Centre (IEDRC), April 7-8, 2012.
awards & honors
Awarded by "Parvati Bhushan" award by "Parvati Nagari Kriti Samiti", Pune(MS), India for work in education and for society.